Off The Shelf!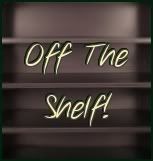 Yesterday I came across a site
A Novel Challenge
with great reading challenges. Although many of them sounded interesting "Off The Shelf!" is perfect for me. Our own library is filled with so many wonderful books I just had to have. Shame on me - there are many which I have not read.
My aim is to read 30 books (challenge level 3 -Making A Dint) in 2011 which I presently own but have never read. Since I have read 50+ books so far this year I should still have time to reread some old favorites as well as read some new books.
I will start listing the books in my sidebar (in no particular reading order). There will be more than 30 books listed so that I will have lots of reading choices. Even then my list will certainly not cover all my unread books.
If you enjoy reading check out the site. There are so many wonderful reading challenges to participate in that here is bound to be something there just right for you.