First Finish of 2015
And here he is - my 2015 snowman.
"Blue Snowman" by Linda Bird (Imaginating, Inc.)
stitched 2/2 on 32 count opalescent Belfast linen with DMC
started January 4, 2015 - finished February 12,2015
Oh how I wish you could see him in real life. The opalescent linen is absolutely perfect for this piece. Rather than stitch the word snow and the snowflakes with white I left them open so they glimmer.
Last night as they were announcing the winner of "Project Runway All Star" I put in my final X.
The next project I will be concentrating on is one I started in 2014. It is "The Bookshop" from a painting by Anton Pieck.
I bought this pattern from The Cross Stitch Pattern Gallery. I'm sorry to say that this company is no longer in operation but happy to report I bought two other patterns at the same time. I will show you pictures of these at the end of this post.
Before I do that, here is my progress at the end of 2014. My goal is to have it completed by July 31 of this year.
"The Bookshop" by Anton Pieck
stitched 1/1 on 25 count ivory Lugana with DMC
finished design will be 7 1/8 x 10 3/8 inches
Last but not least, the pictures of the other two patterns I purchased from The Cross Stitch Pattern Gallery.
"The Snowman" by Anton Pieck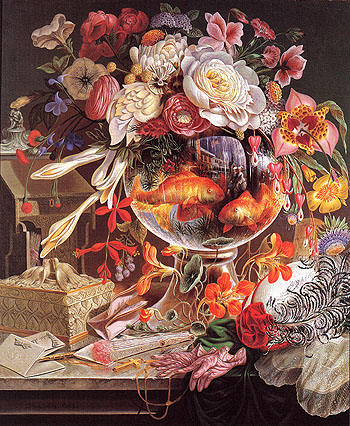 "Fishbowl Fantasy" by Edward Goodes
Have a wonderful weekend.
PS: I forgot to show you the books I am currently reading. I tried to add pictures of them this morning but somehow it isn't working so here are the titles:
"A Light in the Window" by Jan Karon
"Elizabeth the Queen: The Life of a Modern Monarch" by Sally Bedell Smith